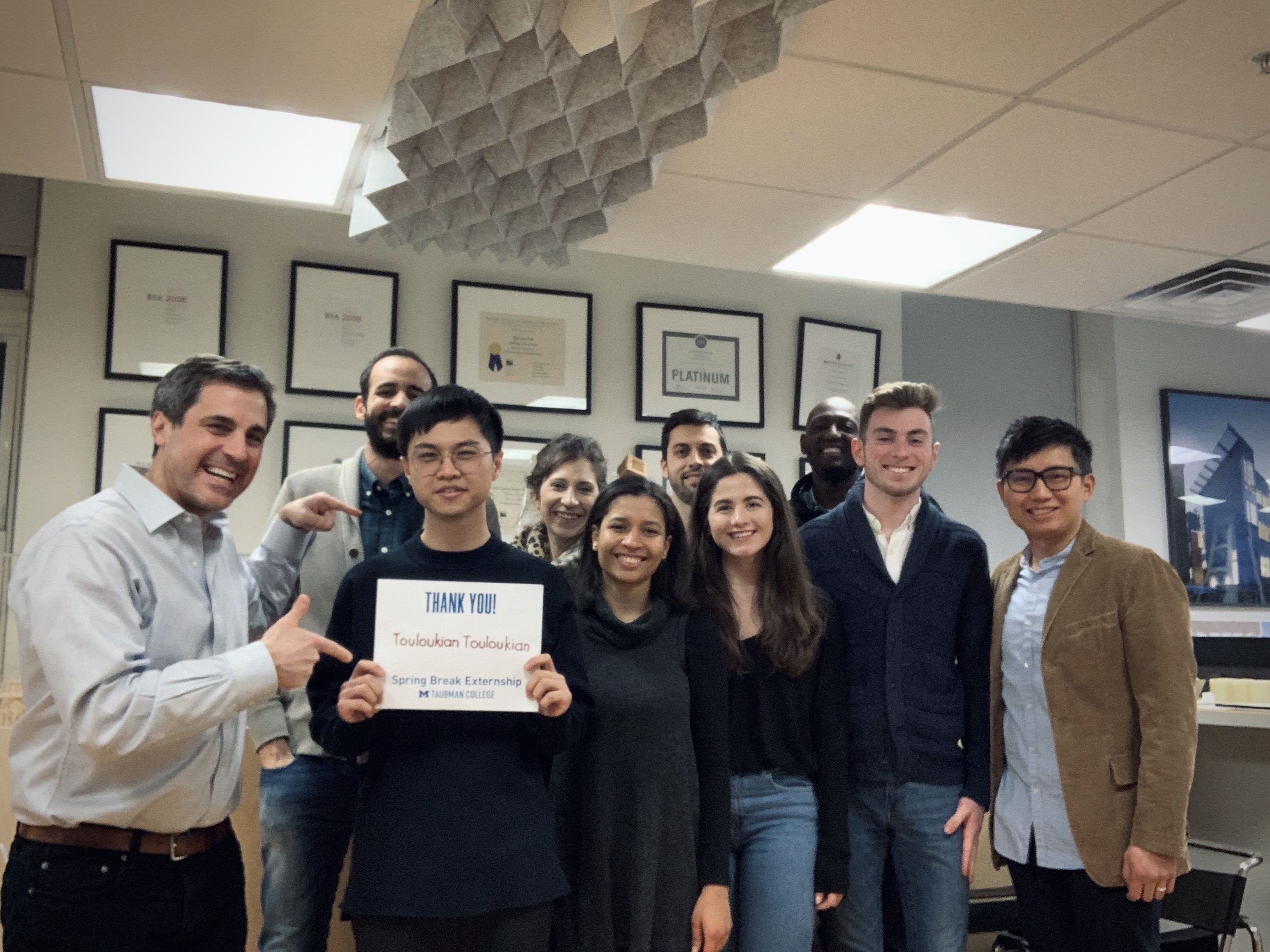 Wanrongmiao Zhang
NBBJ | Boston
Get
NBBJ
!
I explored my spring break week at the architecture and urban design firm NBBJ Boston as an extern to learn about their work, office and projects. Grateful to the great hosts at NBBJ, I learned a lot. Leadership was great and the work environment was friendly and relaxed. Workspace offers plenty of flexibility in working arrangements. Although most of my superiors were busy, they were approachable enough that I could easily ask to help out, so I was always keeping myself active and positive. The externship at NBBJ was a really enjoyable experience for me!
--Wanrongmiao Zhang
---
Yu-Cheng Lin
Safdie Architects | Boston
Get
Safdie Architects
!
To be selected for an Externship in Safdie Architects was so exciting to me and provided a great opportunity to experience the working environment in the US. I was assigned to a team that was developing the Marina Bay Sands during the session. The size of the project is so huge that it broadened my horizon: A building could be a city. Especially after I dipping my toes in the realm of Urban Design, revisiting a mega architectural project got even more interesting than before. Another thing that impressed me is that even with the age of 81, Safdie examined the designs of every project almost every day. Sometimes he had to hold the handrail to step upstairs and this was the scene that touched me. That is a human who devoted his life to Architecture, Urban Design, Education, Theory, and Critical scholarship. The Externship at Safdie was a really rich and inspiring journey.
--Yu-Cheng Lin
---
Yinan Fang
Touloukian Touloukian | Boston
Get
Touloukian Touloukian
!
It was a great opportunity and experience for me to spend my spring break at Touloukian Touloukian in Boston as an extern. During the wonderful week, I participated in the background analysis of a restaurant project in downtown Detroit through mapping of urban fabric at different times. Also, I was truly glad to join several meetings and to communicate with people in architectural design, interior design, furniture design, etc. I really appreciate the chance to work with excellent people at Touloukian Touloukian, and it was an extraordinary and memorable week for me!
--Yinan Fang
---
Amelia Linde
Brick. | San Francisco
Get
Brick.
!
My time at Brick Inc. in March 2019 as an extern was extremely valuable. I traveled to Emeryville, California via San Francisco. It was a fun experience to see the role of a fast growing firm in a large city like San Francisco. Everyone at the firm was kind and welcoming, and showed me the interesting and thoughtful work they do. I was able to go to the North Bay for a groundbreaking event, meetings in the city, and internal meetings at the office. Also, I was luckily there during International Women's Day and it made the work-week more special!
-- Amelia Linde
---
Madeeha Ayub
Sasaki | Boston
Get
Sasaki
!
My Externship at Sasaki, Watertown was an extremely fun and intriguing one week that gave me a great insight into how this amazing workplace functions to make places and lives better for people through design and collaboration.
The office with more than 300 employees, structures itself in pods and interdisciplinary teams to take on global projects. I worked in the campus planning pod for Bryn Mawr College making some initial diagrams and spatial mappings for a couple of client meetings. The time spent was very enriching and productive.
--Madeeha Ayub
---
Jiayao Chen
Beyer Blinder Belle | New York
Get
Beyer Blinder Belle
!
A great experience in Beyer Blinder Belle! Thanks for my host's thoughtful externship plan and meticulous introduction. I worked in both architecture studio and urban design studio in one week. It's a good experience to work in big teams and cooperate with intelligent designers. I was excited to work on the Phillips Exeter Academy Renovation Project in the urban design studio and learn how to use a 3D printer in the architecture studio. As Lou and Holly always said, it's also an opportunity to test out a city. It was really a pleasant trip to NYC!
--Jiayao Chen